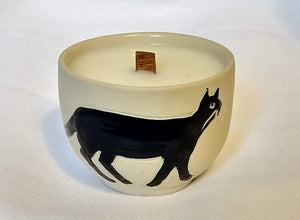 Sasha Candle
These limited edition candles combine small batch soy based wood wick candles hand poured by potter and candle maker, Shana Taylor into one of a kind small reusable, reusable fully functional wheel thrown containers made by Sheila Ross, founder of Sasha's Tea Party.  
This candle has been lightly scented with Taylor's Beach scent.These candles are long burning.  
The candle is 3.5 ounces and will burn for 12 + hours.  After the candle has been used up, this container makes a wonderful little cup for tea or a succulent plant  The container measures 2.25" tall and is 2.75" in diameter.